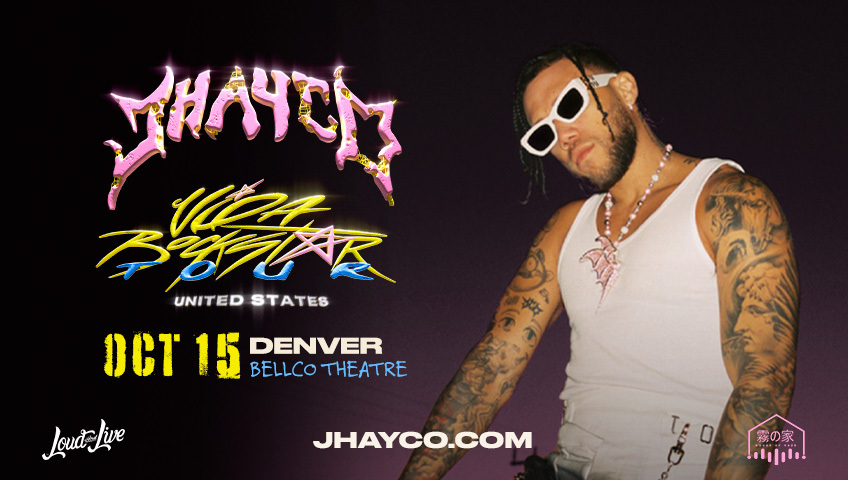 Event Details
Oct 15, 2023
Bellco Theatre
Doors at 7:00pm
Show at 8:00pm
JHAYCO at the Bellco Theatre Oct. 15th!
Bio
Latin urban's new generation has a name and it's Jhayco.
Straight from the island of enchantment arrives Jesús Manuel Nieves Cortés, better known as Jhayco, a trailblazer and phenomenon that has somehow managed to shape and disrupt the music industry, all at the same time.
Originally born in Rio Piedra, Puerto Rico, Jhayco lived in New Jersey for most of his childhood. At the age of 12 he returned to Puerto Rico and found that a new style of music had increased in popularity. That was when he fell in love with urban music, listening to Don Omar, a sound that helped define his future as a singer-songwriter and artist forever.
From the early age of 14 he began to produce and compose songs, and it was only two years later, at the age of 16, that his work as producer and composer in Tito El Bambino's album 'Invencible' granted him his first GRAMMY.
Catapulted into a promising career as a composer, he began working hand in hand with great artists like Zion & Lennox, Natti Natasha and Nicky Jam, among others. All the while, he would continue to develop his own sound and discover his style, eventually releasing his first songs.
Jhayco continued working as a composer and producer, taking home his second GRAMMY Award for Best Urban Album for J Balvin's 2018 album 'Vibras,' for which he wrote four songs. He also won Song of the Year awarded by the Songwriters Association, ASCAP, for the song "I Like It" by Cardi B, J Balvin and Bad Bunny. Two more of his songs, "Criminal" and "No Es Justo" also received awards.
He became a household name in the urbano scene with his massive worldwide hit "No Me Conoce," which later had reggaeton superstars J Balvin and Bad Bunny in a remix that skyrocketed him to the top of the charts. It maintained its spot among the most watched videos and most listened songs globally, in addition to being among the Top 5 in Billboard's Hot Latin Songs and on the general market's Hot 100 list.
His album, "Famouz", composed entirely by him and in which he also acted as the executive producer, charted on Billboard's Top 10 Latin Albums in the United States for more than 70 weeks. With "Famouz Reloaded" he debuted in the Top 10 Latin charts on Apple Music in 23 countries, featuring collaborations with the genre's heavy hitters such as J Balvin, Ozuna, Bad Bunny, Wisin y Yandel, Zion & Lennox and Karol G, among others.
Jhay has been praised and recognized as an artist that stands out within the urban music scene, not only by the media and the genre's heavy hitters, but also by music fans around the world. He is the genius behind some of the biggest Latin hits in the world (including Dakiti, No Me Conoce, Medusa, among others).
With over 16 billion combined streams, the trailblazing Puerto Rican artist has helped shape the landscape of urban music today. Jhayco presents a new age in the urban scene, crafting an international sound for the Latin genre and taking it to global stages for his diverse and continually growing fanbase. Jhayco's latest album Timelezz was #1 on iTunes Latin Chart and #2 on Billboard. Jhayco's song "Dakiti" with Bad Bunny led him to #1 on the Billboard Global 200.
With over 30m monthly Spotify listeners and part of the Billion Club Playlist with "Dakiti" Jhayco has a fan base of 1.8m TikTok followers, 5m Instagram followers and 3.7b+ combined YouTube views and part of the Billion Views Club on both Spotify and YouTube with "No Me Conoce" and "Dakiti".
Forthcoming Vida Rockstar tour kicking off in Mexico; previous Premio Tu Musica Urbano nominated Timelezz Tour throughout 2021 and 2022; sold out shows including 3 nights at the iconic Coliseo of Puerto Rico

Children who have not reached their 2nd birthday do not require a ticket, but must sit on a parent's lap
We're Looking Forward to Seeing You!

To access your purchased tickets you will need to download the AXS app and log in to your AXS account to review your method of delivery. If you select AXS Mobile ID as your method of delivery, your tickets should be in your account.
The AXS app is your ticket! You will need to present the AXS mobile app with your ticket at the door for entry.
Plan to arrive early if you need assistance or if you are picking up Will Call at the Box Office.
There Are No COVID Protocols
You do not need to show proof of vaccination or wear a mask in order to enter the theatre.
ADA Drop Off / Drop Off / Ride Sharing
We have a convenient Drop Off for guests that is right in front of the entrance. We HIGHLY encourage your use of this, especially for ADA purposes.
The Drop Off is close to the corner of Stout and Speer, 1100 Stout St. Denver, CO 80204, see the map below!

Path to Entrance
The way to the Theatre entrance is to use Stout Street for access, either from Speer Avenue or from 14th Street. You do not enter the main Convention Center building and will be stopped from doing so.
Parking
PLEASE NOTE!
Due to the expansion of the Colorado Convention Center our parking garage capacity has been reduced. You may need to find alternative parking. There are many lots and garages around the Convention Center so please plan ahead or plan to ride share or use public transportation.
The Convention Center Parking Garage is located at: 1652 Speer Blvd, Denver, CO 80202.
Follow Bellco Theatre for pre-sale codes, show announcements and more.
Facebook
@denverconvention
LinkedIn
@colorado-convention-center