Rocky Mountain Project Management Symposium from PMI Mile Hi!
All in person. All world-class
Keynotes, workshops, and breakouts
Networking
Workshops & breakouts
PDUs! Earn PDUs even AFTER the event!
More information can be found here

Early bird deadline: 3 March 2023 to 12:00AM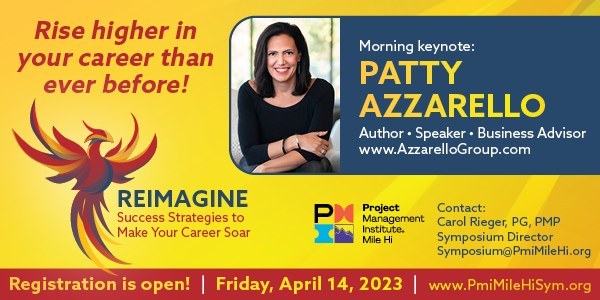 Back by popular demand:
Announcing Morning Keynoter
PATTY AZZARELLO
Author • Speaker • Business Advisor
Useful • Practical • Non-Annoying
www.AzzarelloGroup.com
About Patty Azzarello
"My work is about effective business leadership–and people.
"It's about the practical aspects of leading teams, executing strategy, and building the kind of authentic success that does not require you to sacrifice your soul and your life, or kill your team to get there," notes Patty Azzarello.
Patty became the youngest general manager at HP at the age of 33. She ran a $1B software business at the age of 35. And she became a CEO for the first time at the age of 38, as she explains, "without turning into a self-centered, miserable jerk."
She is the author of two books, RISE: 3 Practical Steps for Advancing Your Career, Standing Out as a Leader AND Liking Your Life and MOVE: How Decisive Leaders Execute Strategy Despite Obstacles, Setbacks and Stalls.
Patty's no-nonsense, practical, often humorous stories about her real world experiences of running a business and advancing a career made her a hit at our 2015 Symposium.
You won't want to miss this!
Closing Keynote
SCOTT WELLE
Founder of Outperform the Norm
Author • Speaker • Coach • Trainer
Peak performance • Leadership • Motivation
www.ScottWelle.com
About Scott Welle
""Helping people outperform personally, professionally and/or athletically is my mission," states Scott Welle.
Scott is founder of Outperform The Norm, a leading program for business leaders and athletes looking to raise their game and perform at the highest level.
A lackluster student academically and painfully shy while growing up, his place to excel became sport. Today, as a motivational professional, Scott has worked with professional athletes (NFL, MLB, PGA Tour), elite level triathletes, CEOs, stay-at-home moms, and everyday heroes who all had one common goal- to improve and to be better today than they were yesterday.
His nine bestselling books, articles, videos, podcasts and online programs inspire hundreds of thousands of people worldwide.
Scott enjoys pushing his own physical and mental limits, completing five Ironman triathlons, 30 marathons and a 100-mile ultramarathon run.
"I truly believe that we're capable of much more than we realize, and if we're willing to step up and courageously demand more from ourselves, the sky is the limit," Scott emphasizes.