Sales, Marketing and Guest Services Team
Gregory J. Lowry
Assistant Director of Sales/Entertainment
Greg has over 25 years' of experience working in the concert, convention and event industry. Greg graduated from The University of Memphis in 1986. Before moving to Denver, Colorado, he was employed by ASM Global in Memphis, Tennessee at the Pyramid Arena where he was responsible for all areas of marketing, advertising and public relations for the 20,000 seat arena. While at The Pyramid, Lowry worked with the NBA Memphis Grizzlies Basketball program, NCAA Memphis Tigers Men's Basketball program, national touring concerts and family spectaculars. In May of 2004 ASMtransferred Lowry to Denver to participate in the grand opening of the $340 million dollar expansion of the Colorado Convention Center. Today, Lowry oversees the sales and booking all concerts, comedy, family shows and entertainment events at the Bellco Theatre and Colorado Convention Center.
Over the past ten years Greg has served as an Adjunct Professor at Johnson and Wales University teaching in the College of Hospitality.
Kayla VanCleve, CMP
Senior Sales Manager
Industry Member: Professional Convention Management Association (PCMA) and Meeting Professionals International (MPI)
Kayla started her career in the hospitality industry in 2002 with Hanley Wood Exhibitions (now Informa Markets). Over the next 11 years, Kayla worked on several prominent national and international tradeshows and conventions in a sales management and operational capacity. In 2013, after returning to Colorado, Kayla joined the Colorado Convention Center and spent the next 7 years playing an integral role collaborating with VISIT DENVER on Corporate and Association events. Prior to returning to the CCC in March of 2022, Kayla managed and produced tenant engagement events, programming and public events for four commercial properties in downtown Denver. Outside of Kayla's passion and dedication to the event's industry, she's a real estate enthusiast and Licensed Real Estate Broker.
Kathleen Littel
Sales Manager
Kathleen received her Bachelor of Science in Hospitality Management with a General Business Minor from the University of Arkansas. Since 2018 Kathleen worked in Event Services at the Fayetteville Town Center in Arkansas. She was responsible for executing events acting as the liaison between clients and vendors from set up to tear down for up to 700 events a year. During the COVID-19 pandemic, Kathleen served as the only point of contact for the Center often filling dual roles of sales and event management as well as servicing their social media avenues.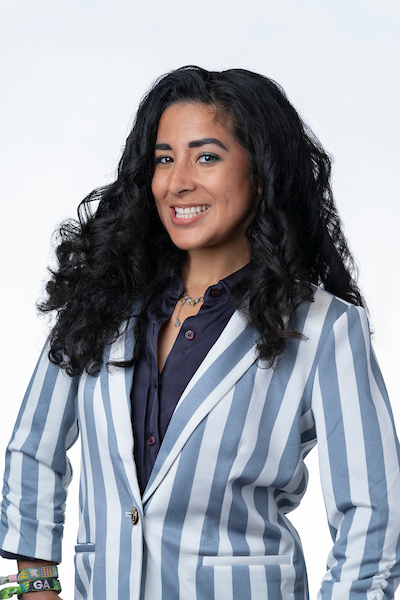 Izabella Simone
Marketing Manager
Izabella holds a Bachelor of Science in Marketing from Metropolitan State University of Denver. She began her career in the health and wellness industry helping clients organize launch events across the U.S. and internationally as well. She is passionate about enriching lives through the power of events and bringing people together for art, music, activism, and so much more. When Izabella's not in the office she's practicing her French or spending time with her two dogs and two cats. Izabella is thrilled to be with us here at the Colorado Convention Center.
Denise Crosby
Guest Services Manager
Denise is a Colorado native who graduated from the University of Northern Colorado with a Bachelor of Science degree in Special Education and Rehabilitation. She has been employed by Whiz Kids Tutoring – a non-profit faith-based literacy and mentoring program for underserved youth in the Denver-metro area for 21 years as a Field Director. Denise began her career with ASM Global and the Colorado Convention Center part time in 2011 as a Guest Service Greeter, Shift Lead, and now Guest Service Manager. When Denise is not working, she enjoys spending time with her 3 grandchildren! She is excited to be a full-time employee with ASM Global and the Colorado Convention Center.